To support both an holistic and natural approach to my clients well-being, I am delighted to offer a selection of natural products to suit the whole family.
These products can make a thoughtful gift for a special birthday, anniversary and Christmas or can be chosen to support your own health and well-being.
Enjoy browsing the range available.
Kelly x
Gift vouchers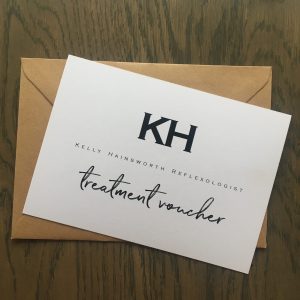 Choose the gift of relaxation with one of my treatment vouchers, to show how much you care.
My vouchers all have free delivery and can be sent to the address of your choice.
Buy now using the button below, and I will take care of the rest for you.
Neal's Yard Remedies
I am proud to be a consultant for Neal's Yard Remedies, to offer a selection of natural products and supplements to support your well-being. 
Neal's Yard Remedies began in 1981 and have been a pioneer in organic beauty and well-being. They were the UK's first certified organic natural health and beauty company, as well as the first retailer of certified organic essential oils.
If you would like any recommendations please contact me for some advice at kelly@kellyhainsworth.com 
Just For Tummies
I am delighted to be an affiliate for Just for Tummies to support your well-being.
Just for Tummies is a premium, targeted range of probiotics and digestive health supplements made in the UK, aimed at supporting digestive, gut, urinary and vaginal health. They are gluten and dairy-free, and with the exception of the Omega 3 fish oil capsules, are suitable for vegans.
Just For Tummies supplements have been developed by Linda Booth, a leading natural digestive health expert, and based on 26 years' experience running a busy natural health clinic, specialising in solutions to resolve common digestive and gut disorders such as irritable bowel syndrome (IBS), painful bloating, constipation, diarrhoea, heartburn and indigestion, to mention just a few.