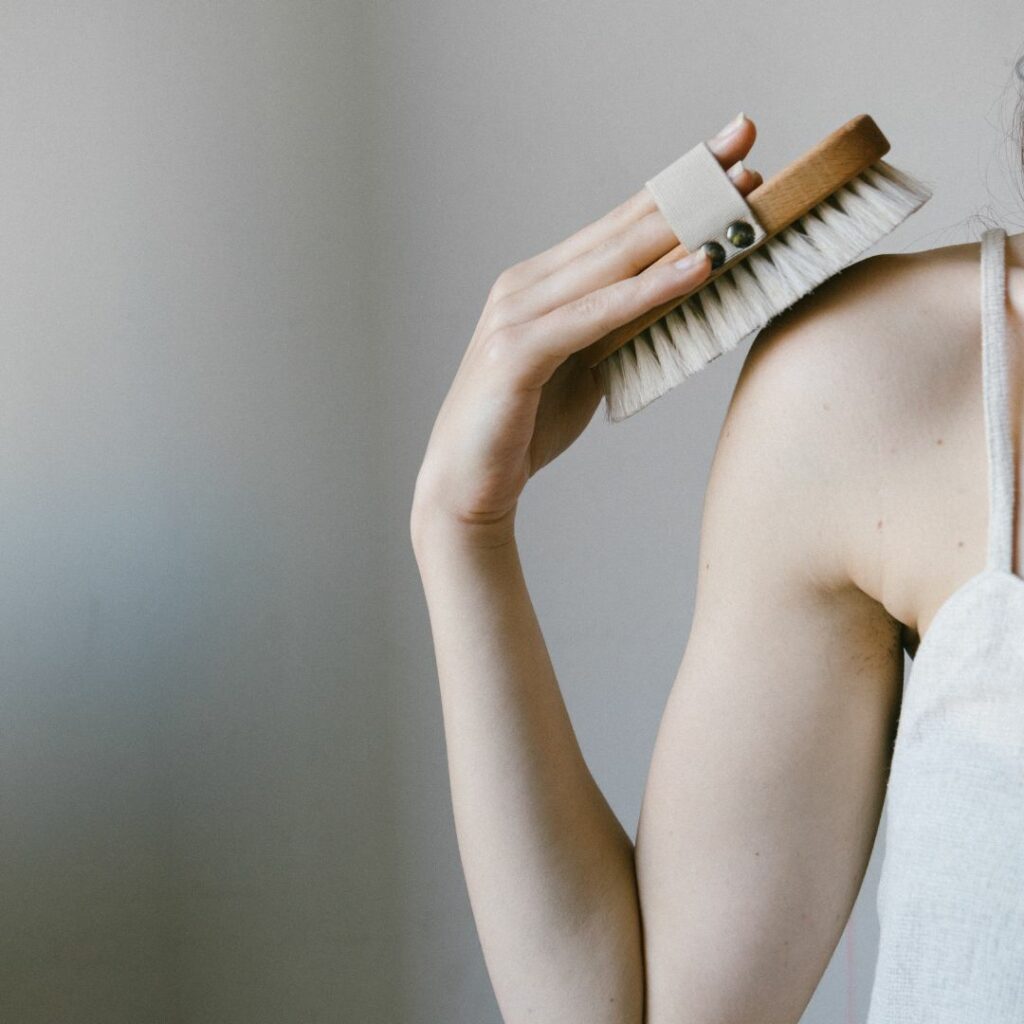 One of my favourite ways to boost my well-being during the summer (and beyond) is dry body brushing, if you are one of my reflexology clients I will have shared this with you.
Body brushing may help to boost your circulation and lymphatic system, as well as exfoliating the skin by removing dead skin cells from the surface to leave it feeling smoother and softer. Perfect for when we all went to wear our summer dresses and head to the beach!
This is an easy and helpful self-care activity if you have a career where you sit down for prolonged periods of time, as it is great for boosting the circulation, or you would just like to give your skincare regime a boost.
If you have not tried dry body brushing before, here are my tips to get started:
Add this activity to an existing daily routine – this will help you to stick with it and feel the benefits. For example, I like to body brush before my shower each day. Top Tip: Don't do it after a bath or shower, as the skin will be too sensitive.
Use a natural-bristled brush such as the one from Harrogate Organics
Start at your feet and work your way up your body, using long, smooth strokes.
Brush in the direction of the lymph flow – so brush up the legs and thighs, up the arms and torso, across the buttocks and up onto the centre of the back. (Always go in the direction of your heart).
Remember not to brush too hard, to avoid hurting/damaging your skin. Use a lighter pressure on sensitive skin.
Be gentle with sensitive areas such as the breasts and stomach.
Pay special attention to areas where you tend to get dry skin, such as the elbows, knees and heels.
After brushing each part of the body, follow the brush strokes with a sweep of your hand.
You can brush daily, but if you have sensitive skin, start with a few times per week.
Enjoy the process and some time to yourself, you could even apply a body cream afterwards to give your skin some additional love. My personal favourite is the Women's Balance Body Cream from Neal's Yard Remedies.

Have you tried dry body brushing before?
Product links featured within the article go to my Harrogate Organics affiliate link and my Neal's Yard Remedies shop. If you make a purchase from these links I will receive a small commission from the sale.